WE CONVERT biodegradable wastes into energy to provide heat, power and sanitation.
FOOD/DRINK
- Small scale food manufacturers
- Breweries & Distilleries
- Canteen & Restaurant food waste
- Supermarket and logistics
AGRICULTURE
- Uncovered lagoons
- Open top tanks
- Digestate storage
 
HUMANITARIAN
- Military
- Emergency Sanitation
- Sustainable Development
(eg. sewage, food waste, manure)
Turning your waste food and drink into environmental and commercial opportunities.
Mitigate waste disposal costs, lower carbon emissions and generate on site renewable energy.
20ft or 40ft
Robust, modular compact digester solution in 20ft or 40ft shipping containers to process food and drink industry wastes. Plug and play, producing gas in only a matter of days
Integrated heating and stirring

Control panel for automation of pumps, feeding, heating and gas controls

Remote operation from an app

Plug and play, producing gas in only a matter of days
Sanitation and energy generation from sewage and local food waste.
Applicable for emergency relief, longer term camp facilities and developing country's infrastructure worldwide.
5m3 - 313m3
Quick to install digesters with varying capacities. Ideal for transportation to remote sites with poor access. Lightweight with the longest component only 2m in length
Quick to deploy, Fast installation for emergency sanitation in the event of natural disasters, refugee camps and other humanitarian aid situations

Lightweight with the longest component only 2m in length

Designed to fit on standard NATO pallets for rapid deployment

Availability of larger systems up to 313m3
A simplified, scaled down manual anaerobic digester for remote or off-grid locations in developing countries.
Suitable for digesting food waste, sewage and animal manures

Each digester has capacity for 19kg waste per day – producing up to 6 hours of cooking gas per day

Locally sourced parts and materials

Within 2 weeks the system will produce biogas for cooking and a rich liquid fertiliser for improved crop production
Utilise your existing farm assets with low cost technology for capturing latent biogas from your slurry lagoon or tank and harvesting rainwater to increase storage capacity.
Low maintenance floating on-farm biogas solution

Modular, tessellating hexagonal units each covering 94m2 - 11.4m in diameter

Suitable for any slurry lagoon or tank without modification

Secondary biogas capture from digestate storage or waste water treatment

Easily removable cover for slurry lagoon maintenance
INNOVATION
qube's mission is to innovate, MAKing Anaerobic digestion MORE ACCESSIBLE and UTILISing GLOBAL RESOURCES and WASTE
DRY DIGESTION
- Rice straw/ Other Straws
- Ligneous Feedstocks
- Equestrian
UNUSUAL FEEDSTOCKS
- Digestion Trials
- Laboratory Testing
 
Unusual Feedstocks
We enjoy the challenge of innovation, and are open to exploring all types of weird and wonderful wastes as feedstock for our trial digester.
We have facilities to run trials in Somerset. In the past, these have been on anything from seaweed to houmous, dog waste to bath bombs.
For unusual or niche feedstocks, a digestion trial allows continuous testing of the physical, biological and mechanical suitability for anaerobic digestion, both for future use in small scale digesters or for a larger scale system.
Equally, if you have an unusual feedstock, or mix of feedstocks, we have an extensive feedstock database used to model biogas quantity, quality and other factors, so get in touch to find out more.
WHICH DIGESTER WOULD BE RIGHT FOR YOUR PROJECT?
Outputs of Anaerobic Digestion
Anaerobic digestion has two main outputs:
digestate a rich fertiliser that can be spread to land; and

biogas, a combustible mix of methane and carbon dioxide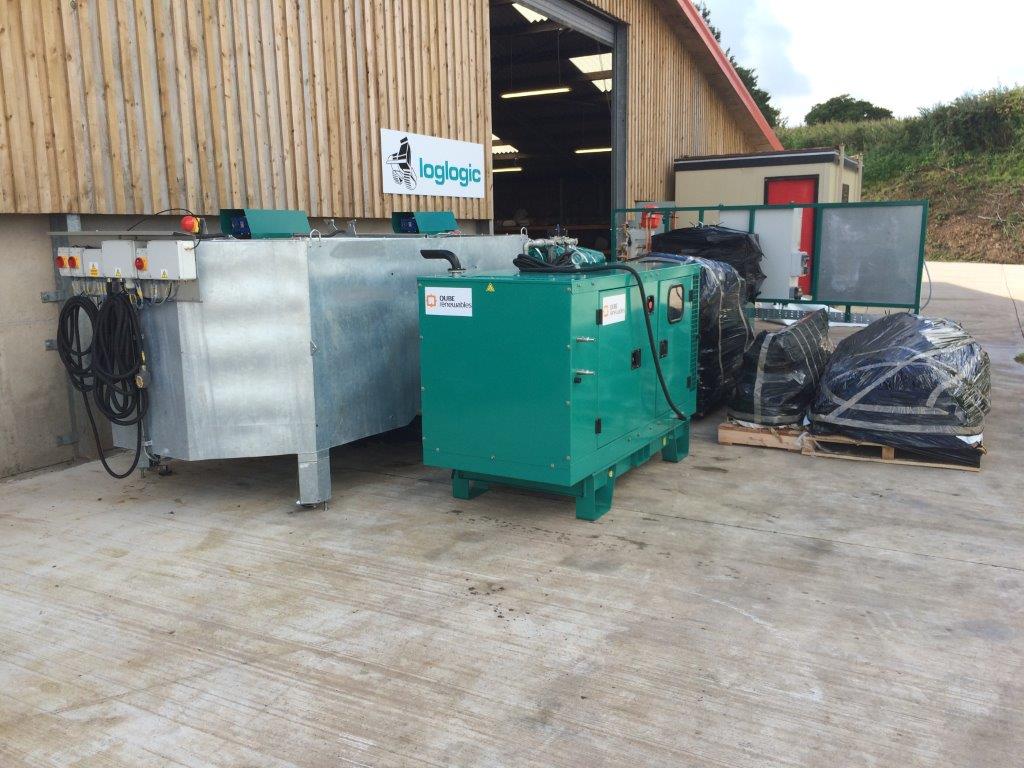 How to utilise your biogas:
There are multiple options with different price points for utilising your biogas. The key to small scale digestion is generating and utilising the energy on site.
The powerQUBE is a small combined heat and power (CHP) generator neatly packaged up into its own self-contained pod.
The powerQUBE ranges from 3-50kWe and can be integrated with QUBE digesters or other biogas systems.
The powerQUBE unit has been designed to be quiet running and efficient for it's size.
Want to FIND OUT MORE?
QUBE uses a network of Collaborators to promote, install and support our anaerobic digester systems worldwide.
If you have relevant knowledge and experience, please contact us below.